NOW AVAILABLE . . .
A Soul Seekers Life Guide for Healing Codependency
Are you ready to reclaim your life and live as you believe God intended? This faith-based workbook offers you an in-depth understanding of "losing one's soul" (codependency) identifying what it looks like, how it develops, and how to heal. It also includes prayer and journaling exercises for reflection to help in your healing journey.
Gain hope * Feel more connected with God * Live as God intended for you * Have the life you desire * Transform your negative thoughts, unhealthy behaviors, and uncomfortable feelings * Be proud of who you are!
---
Here's What One Soul Seeker Has To Say . . .

Peg's understanding of the Lost Soul is evident in her workbook. One feels she is personally accompanying the reader on the healing journey. Her wisdom, experience, and examples are practical and applicable to anyone seeking freedom. Reclaiming Your Lost Soul is a great resource, providing a reliable road to recovery and healing!
---
You'll find out more about what it means to lose your soul, how to get connected with the Soul Seekers Network and online support groups for life transformation when you click on the website below. You can purchase the Workbook, the RYLS Journal and Daily Reminder Cards for daily reflection.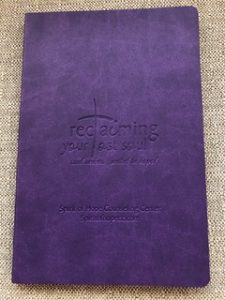 RYLS Journal      RYLS Daily Reminder Cards
---

Reclaiming a Lost Soul:
Codependency Revealed and Recovered
This is Peg's first book and is a helpful guide for counselors. The step-by-step guide offers easy and helpful tools to help heal others who have lost their souls (codependency).
Great psycho-education activities and ideas to help others. Only $9.99 +$4.00 shipping. Please email Peg directly to order this book at Peg@spiritofhopecc.com.